Join us for three incredible days of adventure and relaxation this Winter in the San Juan Islands
we offer 3 day cruises:
friday-Sunday and Tuesday-Thursday from August through November
We take a maximum of 6 guests (in three staterooms).
To secure your booking dates please email snwhopscotch@gmail.com and await our response. Our phone signal is spotty in the islands, and email is the best way to contact us.
Very Important: before booking on our site (or through another site, please contact us first to ensure we have your dates available!
We're really excited to offer a unique "Mini 3 day Cruise" on board Hopscotch in late Summer and Fall 2019
Whether you're a local who's been coming to these islands for years, or this is your first time to the San Juans, you'll have an amazing time enjoying them in their late season beauty...and you'll have them all to yourself!
Here's what you need to know!
(Some Logistics)
Our Mini-Adventure is designed to keep us in protected water, and take advantage of the rugged beauty that these islands display!
Our Adventures begin and end in the charming town of Friday Harbor, on San Juan Island. The first day of our trip begins at 1pm. Which means you've got time to grab lunch and take a stroll around Friday Harbor.
Hopscotch will be docked at the main Marina (the Port of Friday Harbor). The Marina, Ferry Dock, and Town are all right next to each other and can easily be navigated by foot...no car necessary!
There are several ways to get to and from Friday Harbor:

We recommend that you DO NOT drive your car onto the ferry (Parking is available at the Anacortes Ferry Dock), and instead "walk-on" to the ferry. Walking on is much less expensive, and you'll not have to arrive too early or wait in long ferry lines.

You should catch (at the very latest) the 10:20 AM Ferry departing Anacortes. You'll arrive in Friday Harbor at 11:40 am, and have plenty of time to grab lunch, and do a little exploring before we meet at 1pm. Please check the current ferry schedule to confirm times.

You can travel by car to the Anacortes Ferry Terminal and park in the lot there. You'll need to be parked and purchasing your ticket by 10am. If you are leaving from the Seattle area, plan on departing your home by 8am.

Ferry Schedules and information can be found at the Washington State Ferries website

If you choose not to take the ferry, your other option for travel to and from Friday Harbor is by plane. Flights leave daily from Lake Union (downtown Seattle, by seaplane), and Boeing Field (just south of Downtown Seattle). Flight information can be found on the Kenmore Air website.
Schedule — What to Pack — what's included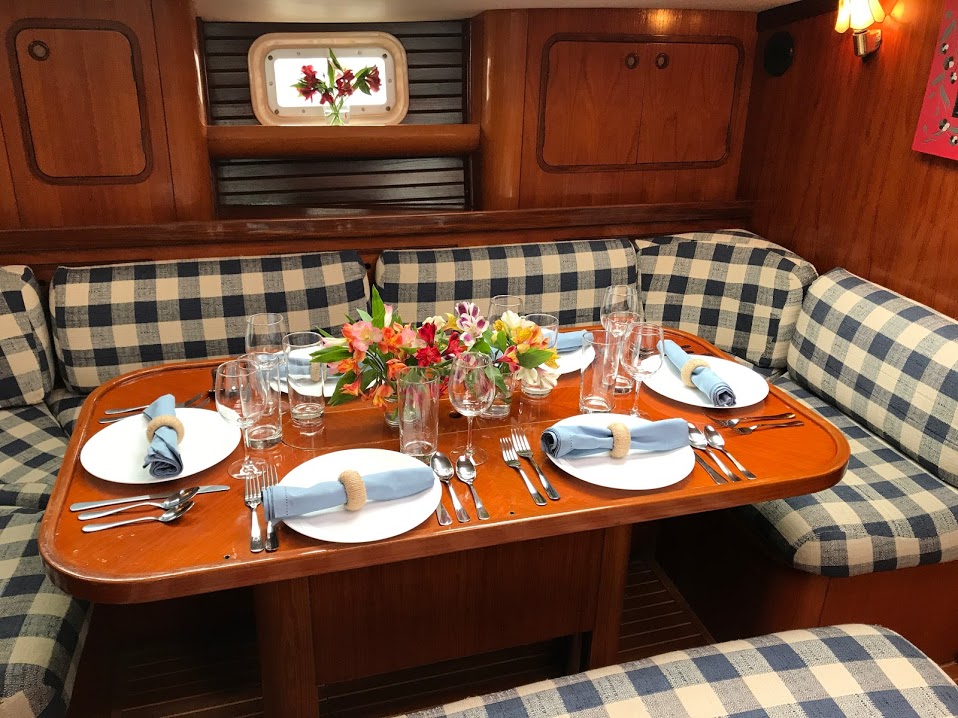 Your Schedule
DAY 1
Please plan to arrive in Friday Harbor on no later than Friday morning. Some guests looking to extend their stay in the islands may wish to come to Friday Harbor on Thursday. This is a great option, and you can find many wonderful winter deals on lodging.
If you arrive on Friday, please plan to arrive in the morning so that you have time to check out the town, and also grab lunch before boarding Hopscotch at 1PM.
There are two ways to get to Friday Harbor:

Fly direct from Seattle via Kenmore Air (Daily flights departing from South Lake Union)

Drive to the Anacortes Ferry Terminal and walk onto the Ferry for Friday Harbor. There is no need to drive your car across the ferry, as the ferry dock is next to where Hopscotch is docked. Please consult the current Washington State Ferry Schedule and note that you'll need a few extra minutes to find parking, and purchase your Walk Aboard tickets in Anacortes. Don't be late! There is a ferry leaving at 10:20 AM from Anacortes that we recommend you be on.

1 PM:

1:10 PM

Depart the dock and head North up San Juan Channel. We'll be on the lookout for Humpbacks, Porpoises, and other Marine Wildlife. We'll also cruise past Speiden Island where (if we're lucky) we'll see Mouflon, Fallow Deer, and Sitka Deer.

4 PM

Arrive Roche Harbor Resort

Roche Harbor has lots to see and do. Along with several places to grab a snack (or famous Donuts!) you can also pick up anything you need (drinks, toiletries, etc) at the Roche Harbor Store. For those of you who prefer to shower on dry land (instead of Hopscotch), Roche Harbor boasts some the nicest showers in the islands…but you'll need some quarters (available at the store)!

You'll have a couple of hours to explore, walk, shop, or just relax. A few of our favorites activities are hiking to the Mausoleum, and taking a stroll through the San Juan Sculpture Park.

6 PM

Dinner tonight will be locally caught Salmon prepared in a special Asian-style marinade which will have your taste-buds dancing with delight. The entree will be served with roasted potatoes, greens, and topped off with a coconut based flour-less chocolate cake.

Evenings:

Evenings on board Hopscotch are usually spent telling stories, playing games, or cuddling up with your favorite book in your cabin. For those who prefer to keep the party going, there are few places more iconic than the fireside lounge at Mcmillan's
day 2
7:30 AM

Coffee is on! If you are an early riser you're certainly welcome to get up at dawn and walk the docks, shower, and explore! However, we ask that you "keep it down" (library voices) until 8 am…some guests like to sleep in!

7:30-9 AM

8 - 10AM

Breakfast! You're on your own for breakfast today! The best breakfast on the island is at the Lime Kiln cafe! So sleep in, or get up early and enjoy the morning at Roche!

10ish AM

Depart Roche Harbor and head towards Jones Island State Park!

10ish-1ish

We'll be sailing on the West Side of San Juan and Henry Islands. Heading north of Haro Straight we will be on the look out for transient and resident Orca Whales! This is prime whale territory and we'll cross our fingers that we get lucky and haven an encounter! If conditions allow, we will have lunch underway, around 12:30 PM.

1ish PM

We'll arrive on Magical Jones Island!

1-5 PM

This is your time to get out and explore all the magic that Jones Island has to offer!

5-6:30 ish

Come warm up with a hot drink, and a campfire! We'll have a toasty campfire, some snacks, drinks, and maybe even a hammock or two to help you warm up and relax after a day of adventures!

7 pm

Tonight's dinner is one to remember! Chef Branden will make his famous Local Salish Sea Baked Halibut, Broccolini and Wild Rice. Dessert will just have to be a surprise!
Day 3
7:30 AM

Coffee is hot and ready for you to take on one of the incredibly beautiful hikes that start and end at the State Park Dock. Enjoy a 20-30 minute walk that will take you through madrona forest, old growth, and coastal rain forest.

9 AM

We depart Jones island and have a lovely Brunch underway.

9 AM - 10ish Am

We'll sail down San Juan Channel back to Friday Harbor.

10-11 AM (ish)

We'll arrive back in the town of Friday Harbor.

You'll be back in time to catch the 12:10 Ferry back to Anacortes. Or if you'd prefer to grab lunch in Friday Harbor, you can catch the 3:40 PM Ferry.
What you should pack
Most importantly, we ask that you pack your luggage in a soft sided bag. Hard sided Luggage takes up too much space aboard Hopscotch.
Please make sure that you have these items:
Warm Jacket

Pants

Shoes that you can walk in. Usually tennis shoes are fine. But if you prefer hiking shoes, please feel free to bring them

We don't recommend flip flops, or other sandals that can easily get caught on lines or edges of the boat.

A warm hat

Gloves
We have plenty of blankets, umbrellas, (extra) gloves, and other items to keep you warm! Hopscotch is dry and warm, and you can always "get out of the weather" if you want to. However, there are moments when we might have some chilly weather (or wet) coincide with an amazing situation (whales, or other scenic opportunities) where you will want to be on deck. It's also quite enjoyable to be outside when we are under sail. So, we recommend that you bring clothing that you might wEaR if you were going for a walk in the Pacific Northwest in the winter time.
What's included and what's not
The cost for 1 stateroom (2 guests per stateroom in one "Queen" sized bed) is $2700 ($1350 per person)
Your adventure on Hopscotch includes:
You own stateroom (for 2 people) with towels, and extra toiletries (if you forgot your own!)

Each stateroom has a head (boat for bathroom), and the head is also a shower. Most guests prefer showering on shore, but it's not a problem to shower on board too!

All food (except breakfast on day two): meals, snacks, treats, etc, is included. Your first meal will be Dinner on Friday Evening (you are responsible for Lunch in Friday Harbor), and our last meal on board is going to be Brunch on the third morning.

We have all necessary safety gear, and equipment:

Life jackets

Binoculars

Umbrellas

Kayaks

Paddle boards

Hammocks

Blankets

Gloves

What's not included:

Any alcohol you wish to consume on board. We will gladly store wine and beer and liquor on board, but we cannot supply it to you. There are several stores in Friday Harbor to purchase any alcohol you wish to consume. And there is also a store at Roche Harbor where you can "re-supply" on any alcohol, or purchase any other items you'd like to.

In the Charter Industry a 15-20 % gratuity (on the original cost of the charter) is customary if service was excellent. If service was less than excellent, we ask that you speak with us about it.
A couple of very important notes before you book!
(the nitty gritty)
1) We may have our First and Second mate: Kona and Scout (4 year old mix and 10 year old yellow lab). On board! They are WONDERFUL and YOU'LL love having them on Your adventure! If howEver, you are not a dog oerson, this trip may not be for you!
2) we'll be traveling in a rugGed and beautiful place. Cell signal and other amenities are not always available.
3) hopscotch is an Ocean-Going sailboat. She is large and comfortable, but still a sailing ship, which means everything is a compromise. You need to be COMFORTABLE in small spaces, and close proximity to other guests.
4) you need to be strong and agile enough to step up and down steep steps without assistance. There are wierd and awkward surfaces on a sailboAt. Hopscotch is not a cruise ship. Moving about a sailboat requires some STRENGTH and balance.
5) the crew of Hopscotch not only works on board, but it is our home as well. We spend our lives showing people amazing things and incredible places. We are here to give you an incredible experience and a safe onE. You will get out of this aDventure exactly whaT You put into it, so we encourage ADVENTUROUS attitudes and flexibility!
6) HOPSCOTCH has a zero TOLERANCE POLICY for xenophobia, racisim, sexism, homophobia, and bigotry. We want everyone to have a great trip, and feel comfortable to be THEMSELVES on Board.
7) FINALLY: We love meeting our new guests, but please remember: we will likely be very busy with last minute PREPARATIONS for your adventure with us.
So… if you show up early to Friday Harbor, feel free to come down and say hi, but unfortunately we won't be able to take luggage, or other items on board until we meet for your departure at 1pm
Thank you for your understanding!