Relax in the spectacular San Juan Islands aboard Hopscotch, our beautiful 50' Beneteau sailboat.
Each day brings a new experience. You might hike/walk, kayak, crab, fish, shop, read, or just stay on board and unwind at a beautiful secluded anchorage. We stop at a new island every day so your experiences are changing daily. Come prepared to relax and have fun. You do not need any sailing experience to enjoy yourself. You are welcome to help pilot the boat and learn as much as you want to about sailing, navigating, and enjoying the waters of the Pacific Northwest.
PLEASE NOTE: Our Late Season Trips Begin and End in Friday Harbor, on San Juan Island. The ITINERARY Below describes the same locations we will be visiting, but in a slightly different order. If you are joining us for a Late Season Adventure, please consult our Friday Harbor Page for details about your ITINERARY:
Your Itinerary
6 days in the San Juan Islands
We board Hopscotch on Sunday afternoon and return on Friday afternoon.
Board Hopscotch in Bellingham, Washington.
Let us pamper you as we embark on a wonderful vacation that starts in Bellingham at 2pm on Sunday.
As we leave Bellingham Bay we will head up Hale Passage to make Sucia Island our first night. Sucia is a beautiful marine park with lots of hiking, beach combing and lovely little coves for anchoring. After dropping anchor, get ready for a great dinner!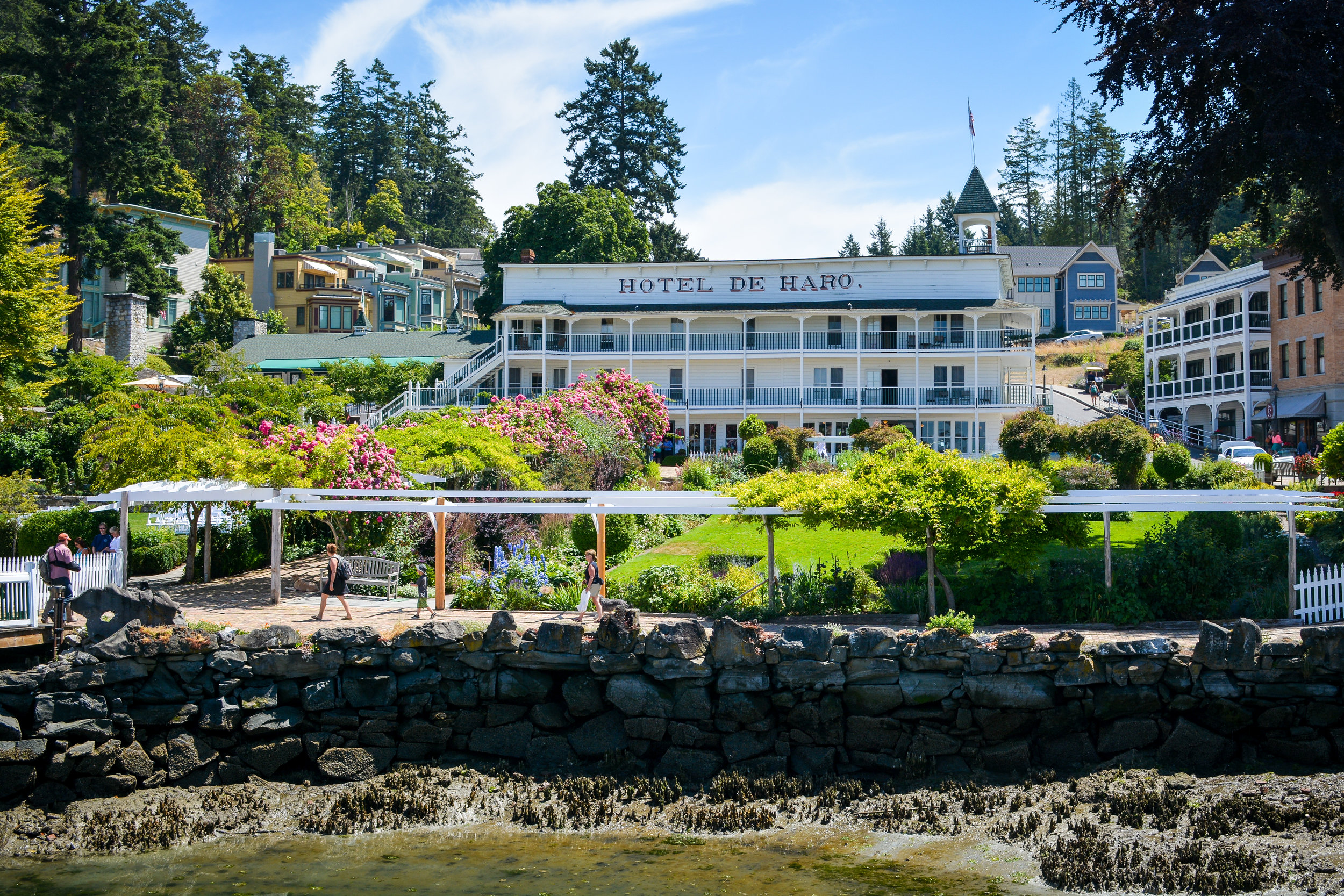 After leaving Sucia Island we will be on the lookout for Dahl Porpoise and dolphins ,and say goodbye to beautiful Mt. Baker for a while. We usually have some good wind for a great sail to Roche Harbor, which is our next destination.
The quaint resort with its beautiful gardens, chapel, and the Hotel de Haro (where Teddy Roosevelt stayed) will charm you. Homemade donuts are a very special treat at the cafe. Enjoy one with your latte at the coffee stand. After enjoying Roche, we will motor through Mosquito Pass to Garrison Bay, where we will find British Camp, home of the Pig War and a great story to share. If oysters are a favorite, we can get fresh ones at Westcott Bay for a nice appetizer.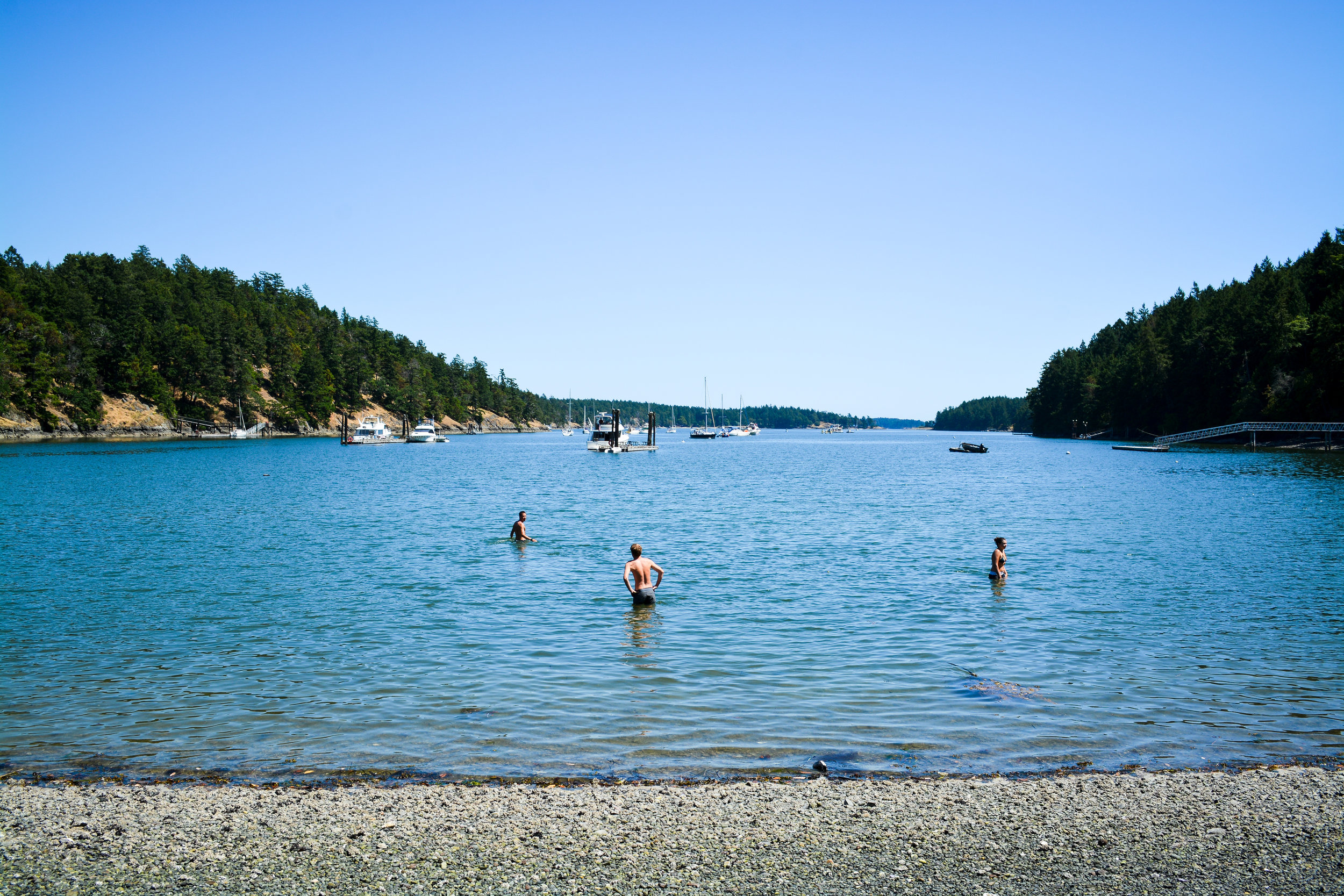 After leaving Garrison Bay we will continue out through Mosquito Pass to look for the whales. Many times we have found whales as we head north to beautiful Prevost Harbor on Stuart Island. It may be the photo opportunity you have been waiting for. There are great hikes on Stuart Island. The favorites are the hike to the one room schoolhouse, and to Turn Point Lighthouse. It is fun to explore the history of this wonderful island. If we're lucky, we may even spot a wild Mouflon!
Friday Harbor and shopping! It's time to get off the boat for some great souvenir shopping, visit the whale museum, rent a bike or a moped or just watch the ferries come and go. This is your night to eat at one of the delicious restaurants in town while the crew takes a break and does some re-provisioning.
Time to say goodbye to Friday Harbor and head to anchorage for our last night. Depending on the weather, we will either stay at Rosario, a beautiful resort with lots of fun history, or cross the straights to anchor in a cove for our last night.
Time to disembark after a spectacular time enjoying the islands, meeting new friends, eating like royalty, and making great memories. Relax and enjoy your cruise back to the dock in Bellingham. It is hard to say goodbye, but perhaps we will meet up again next year.
Just a Few of the Memories you'll bring home
Hiking the rugged island-forests of the San Juan Islands
Viewing one, maybe two, resident Orca pods!
Unrivaled Northwest Cuisine and service in an incredible setting for every meal.
Paddle boarding, kayaking, and even swimming (for the bold!) the crystal clear waters of the Salish Sea, and some island lakes.
Crabbing our secluded anchorages and awaiting the feast to come!
Viewing the wild Mouflon of Spieden and Stewart Island.
Some of the most memorable sunsets to be had anywhere...mountains, water, and plenty of wine!
Spending time with a crew who is genuinely interested in making sure you have one of the best weeks of your life.
A NOTE ABOUT SAN JUAN CHARTERS
Prices include all food (you are responsible for one meal "out on the town" in Friday Harbor), beverages, gear, and supplies. You will need to make travel arrangements to and from Bellingham, Washington (or give us a call and we'll help you out!). Prices do not include any of the following (if you choose to) : Alcohol, Fishing Licenses, or Crew Gratuities.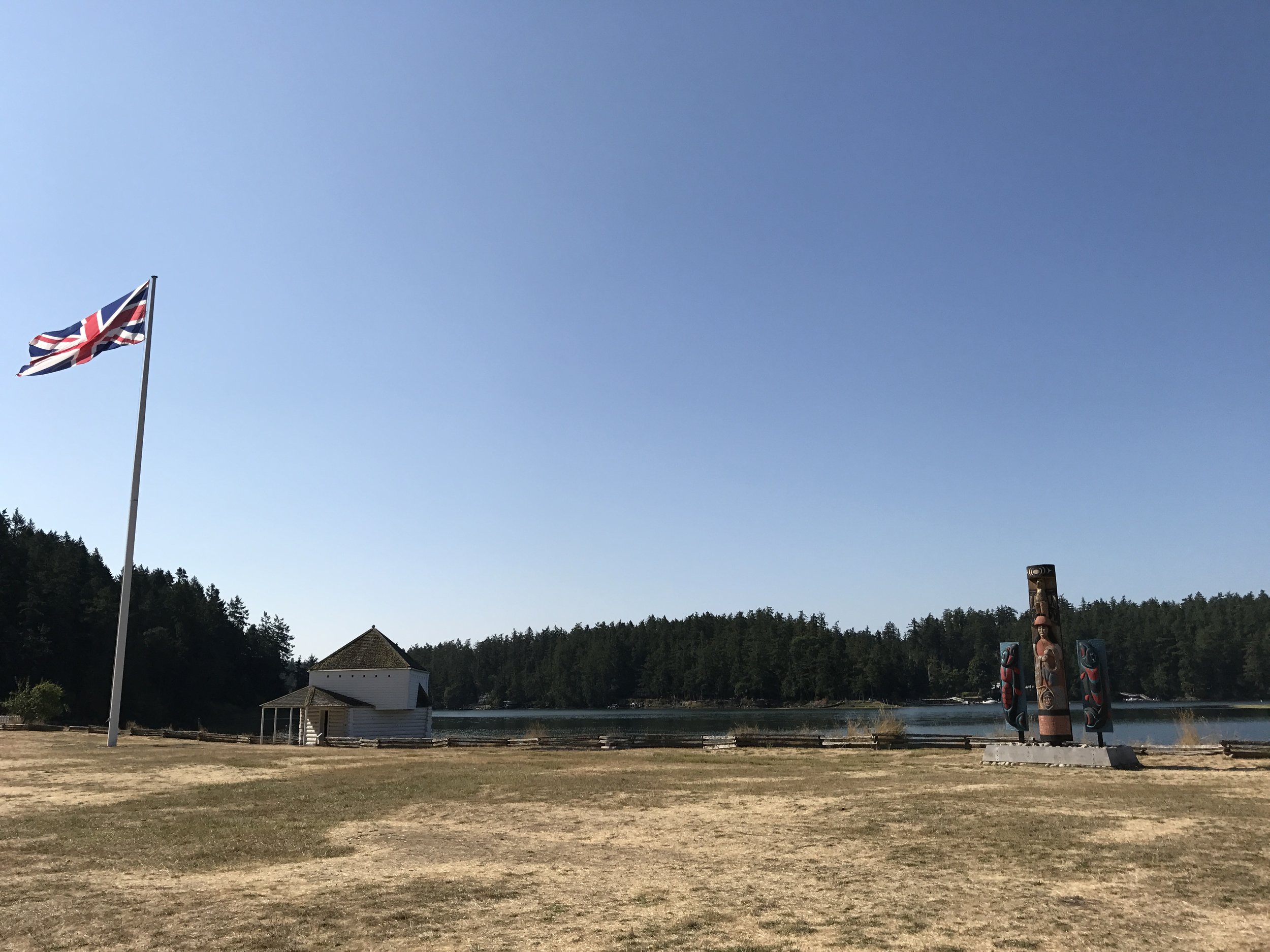 Book by January 1, 2018 and save 15%
Book by January 1, 2018 and save 15%